Kalista design offer a range of services to help promote your business or personal project.
Web design
With many years experience designing high quality, successful websites in and around Worcester and Worcestershire, you can expect us to create you an eye catching,standards compliant website. Websites can be as simple or as complex as you require and typically contain a whole host of useful features such as contact forms, photo galleries, Google maps and more.We believe that a great website should be simple yet effective.Read more on our web design features page.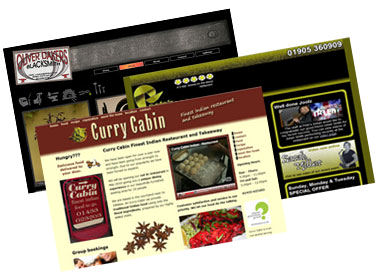 View more fantastic websites in our web design portfolio.
Web hosting and domain registration
As well as producing top quality websites, we also offer related services such as web hosting and domain registration. Leave the complicated bits that you don't want to deal with to our team and save yourself a headache!
Photography
Having a good set of photographs can be the basis of a variety of effective advertising and marketing activity. We can visit your premise or event and take professional quality photographs that can then be put on the web, be used for flyers or optimised for prints etc.
Our success depends upon your success. We aim to build sucessfull websites and provide services that improve your business. We want this success to be measurable so that you can see the benefits of having an ongoing relationship with Kalista Design.
Graphic design
If you need leaflets, flyers, brochures or menus designed, Kalista design can produce advertising material from a simple brief, or to match your exact specifications. We try to work with you, rather than for you, so that the end result does it's job and you are left a satisfied customer.
Graphic design services can include the creation of logos, headed paper, business cards, leaflets, flyers, posters, menus, wine lists and much more.
Read more on our Graphic Design page.
Printing
We let the printers do what they do best. And we focus on what we do best… design. Our team have a wealth of experience working with a large number of printers. we can design for you and then help you to find the best price for printing by working closely with printers we already know. Kalista Design can therefore offer print services that can suit any budget.
♦ Fast Turnaround Times
♦ Website Packages
♦ Technical Website Development
♦ Hosting Services

Website redesign
Many companies have poorly designed websites that may contain irrelevant infomation, or worse, out of date information. The website may be recieving a good amount of regular traffic, but a poorly designed website could damage the business being potentially harmful to the image that the company, club or organisation projects.
Don't let your business miss out on the benefits of a good looking, website.
Our redesign fees are competative and with even with a modest budget we can improve your website dramatically.
There are some features of a website that are often overlooked by busy business owners. Features such as contact forms, useable location maps and basic statistics can be integrated into your existing website so that you can make the most of having a website.